Pickup Service
Use our pickup service to dispose of your latex paint, safely and responsibly! Check to make sure you're in our coverage area, then fill out our Request A Pickup Form below.
Our Coverage Area
Our residential coverage area will continue to expand so please check back for updates. Need to get rid of your leftover latex paint? We provide residential: houses, town homes, condominium buildings and commercial service, currently covering, but not limited to the following locations:
Suburbs
City Neighborhoods
Sauganash

Wildwood

Norwood Park

Harwood Heights

Rogers Park

Edgewater

Andersonville

Albany Park

Ravenswood

Margate Park

Uptown

Irving Park

St. Ben's

Graceland West

Buena Park

Roscoe Village

Lakeview

Wrigleyville

Lincoln Park

Buck Town

Wicker Park

Old Town

Gold Coast

Noble Square

Near North

River West

River North

Fulton River- District

Streeterville

New Eastside

The Loop

West Loop

River South

Printers Row

Dearborn Park

Wabash Corridor

Prairie District
Required gallon can minimums for city pickups, vary depending on distance traveled and consolidation of pickup requests on any scheduled day. Please check with us before registering for a pickup.
Accommodations 
– If you require our residential services, but reside outside the current coverage area, please let us know at info@GotPaintPICKUP.com  or text us @ 312-882-7266 with hard can count and pickup address. If feasible we'll do our best to accommodate you. 
-Want us to meet you at work, or your neighborhood Walgreen's parking lot? We have you covered with our Mobile Drop Offs.
High-Rise Living
We service condominium buildings. Is your property manager aware of our condominium Paint Pickup Events?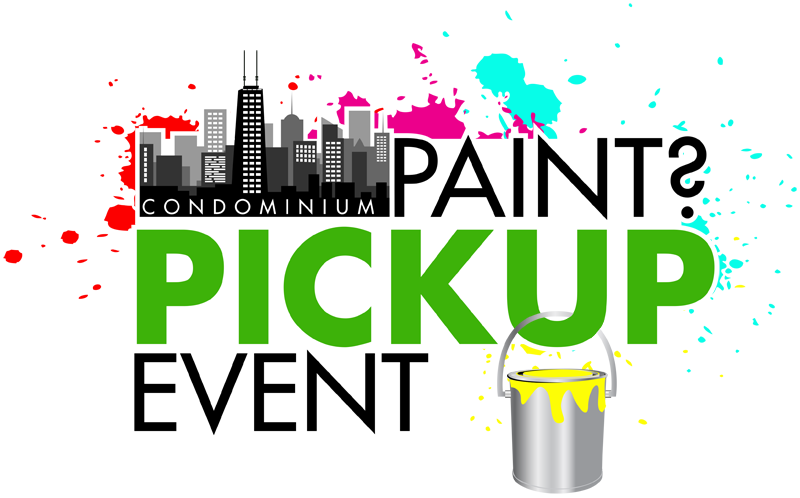 Team up with us and eco-purge your building of paint waste. When registering for pickup service, be sure to check off the Paint Pickup Event box and help us connect with your building's HOA, by providing us their contact information, or have management-
 TEXT PaintPickup to 89800  for our mobile business card,
or print out our  PPEvent-pdf
*A Paint Pickup Event has already been scheduled in your building?  Please register for event using Request A Pickup form below.
Most of the time pickup service will be coordinated by your property manger. We do however cater to individual resident requests.
Need Our Services? 
We offer commercial pickup of leftover paint in your offices, storage rooms, or loading docks. Additionally, we pickup standard latex paint from your industrial facilities. Save on your labor cost, paint transfer to steel drum is unnecessary. We pickup paint in its original container.
*Commercial pickups are not limited to our current coverage area.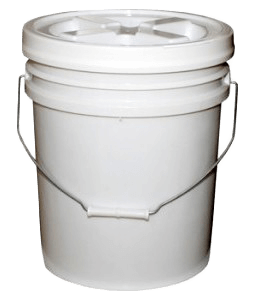 5 Gallon Bucket
Pickup Price: $20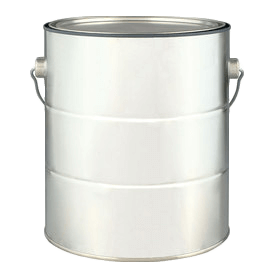 1 Gallon Can
Pickup Price: $5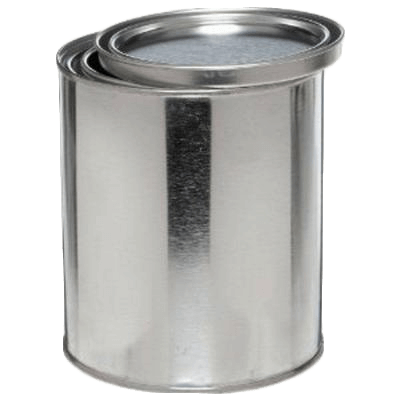 1 Quart Can
Pickup Price: $2

1 Sample Can
Pickup Price: $1.50
*All fees are based on the size of the container, regardless of how much paint is in the can.
Refunds issued due to rejecting petroleum based coatings, will be subject to a 6.8% credit card service fee.
Request A Pickup
Please submit the form below to request residential or commercial pickup service, or to register for an upcoming condominium Paint Pickup Event. You'll receive an email confirmation.
Please Remember!
We only pickup LATEX paint! We will leave behind everything else. NO PETROLEUM BASED COATINGS!  Paint must be in it's original container with the original manufacturer's printed label. We can not accept any paint if it has been mixed with anything, including other paint and kitty litter. All containers must have secured lids, we can not accept open or leaking cans.
How can I tell if its Latex or oil /alkyd based paint?
Water Soluble
Soap and Water Cleanup
Ingredient list includes "Water"
Warning Label does NOT mention anything about Fire.
Factory Packaged in a Metal or Plastic Container
Oil / Solvent / Alkyd Based
Cleanup with Mineral Spirits / Paint Thinner
Ingredient list may include "Linseed Oil"
Warning Label – Flammable, Combustible
Factory Packaged in a Metal Container
Privacy Policy
We collect personally identifiable information like names, postal addresses, email addresses, etc., when voluntarily submitted by our visitors. The information you provide is used to fulfill your specific request. Your information is kept private and not shared with 3rd parties.